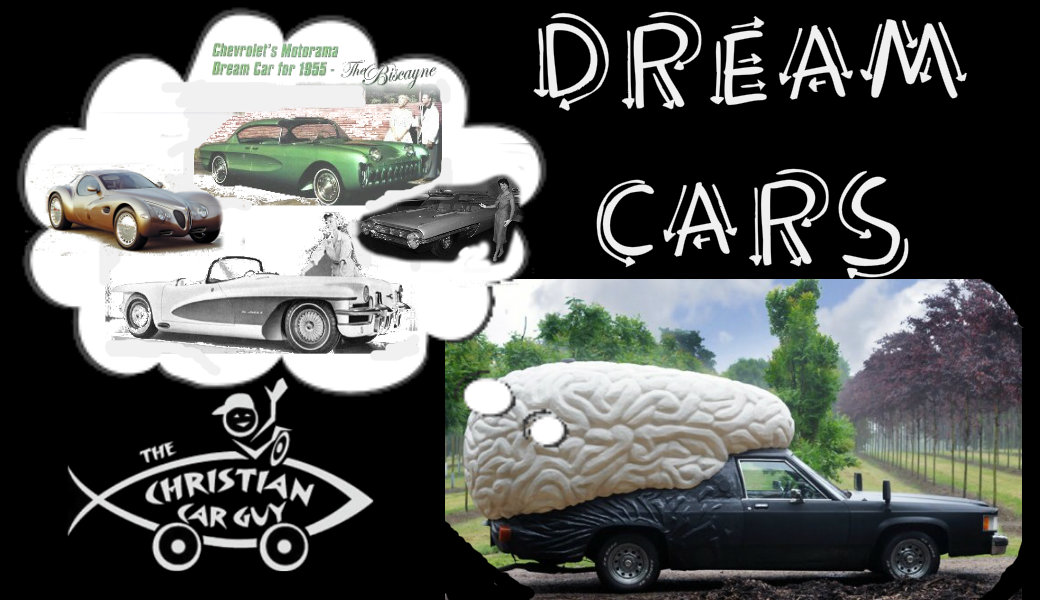 On Today's Christian Car Guy Show we are playing "Guess My Dream Car" with a Thanksgiving twist. Where would you take your dream car and who would you bring along on the Ultimate Thanksgiving Adventure. Since we are dreaming, let's dream big, God didn't sit with Adam in the cool of the day, they walked, traveled together, Elijah didn't go up to heaven in a "Lazy Boy", he went up in a Chariot of FIRE!! No doubt his dream car.
So Jerry Mathis and I will attempt to guess your dream car in 10 "yes or no" questions, then you tell us where and with whom your ultimate Thanksgiving adventure would take you. You call 866-348-7884 and play and if you stump us you get a book from the Christian Car Guy prize vault everyone will win a dream car certificate with your dream car pictured. You can even turn the tables on Jerry and I and attempt to guess our Ultimate Thanks Giving Dream Car in 10 guesses.
When I was praying on Wednesday my daily prayer as outlined a few shows ago I asked for my word of the day and God said, "Dream"…WOW! When God says dream how fun is that? So I dreamed and prayed all day, I thought of so many dreams, but when it came down to it my favorite dreams involved relationships and even better going on adventures with those people closest to me, God adventures big ones where we get to see God do great things bringing freedom to the captives as I saw last weekend at our Masculine Journey Boot Camp. How fun is that?
I believe God knows our dreams better than we do and he wants to see us realize those dreams like Thoreau said, "Our truest life is when we are in dreams awake". What parent doesn't love to see their child realize their grandest dreams. Listen to 1 Peter 5:11 in the Message
"So keep a firm grip on the faith. The suffering won't last forever. It won't be long before this generous God who has great plans for us in Christ—eternal and glorious plans they are!—will have you put together and on your feet for good. He gets the last word; yes, he does."
So you may be wondering what did God give me as my word for the day on the next day, Thursday. WOW, he said, Robby, dream bigger… What? Dream bigger, how can I do that, a little bit of prayer and I saw it the biggest dream of all, Our Union, yes God and me never separate always together every minute every second.
That's what our enemy is after every moment he wants to get us separated from our Father and Jesus and the Holy Spirit. That's why I believe we are told in Proverbs 4:23 "Above all else, guard your heart, for everything you do flows from it." Guard your dreams, your enemy would love to take them from you. Separated from your dreams is to be separated from the one who gave them to you, didn't He?