Jesus taught people in parables to give them word pictures so they could understand what He was teaching them. You can find many parables in the working of automobiles. For instance, pistons slide straight down the cylinder walls behind the force of expanding gasses and all that energy is used to twist or turn the crankshaft so that it spins with great force! That force is called torque. When people repent, they also need to turn and the forces at work in both cases are something to marvel about. The depth of WISDOM the Bible gives provides profound help on how to harness that torque into the horse power to move the Kingdom of God.
Matthew

11:12

ESV
"From the days of John the Baptist until now the kingdom of heaven has suffered violence, and the violent take it by force."
I love to see patterns in life and in those patterns find application to known truth from the scripture in order to help me know how to actually have this power to turn. You may think I am pulling all this out of left field, but I believe if you follow along for a few moments you will see ways to apply the Ten Commandments to your everyday life in new and exciting ways. Lately I have been considering the two tablets of the Ten Commandments and the five commandments on each tablet. I started to see the relationship between the first five anointings of the Holy Spirit from Isaiah 11:1-2
"
The fear of the LORD is the beginning of wisdom, and knowledge of the Holy One is understanding." I
f you look at the picture above you can see that I laid down one commandment from each tablet and tied them together with the word, "Wisdom" which would then relate
Wisdom
as the first of the five anointings of the Holy Spirit with the First and the Fifth Commandments. Exodus 20: 3 and 13:
3

"You shall have no other gods before Me." and "Do not Murder."
Clearly, "The fear of the LORD is the beginning of wisdom, and knowledge of the Holy One is understanding." Proverbs

9:10

would then suggest that with Wisdom you can apply the First Commandment easily … but what about the Fifth Commandment? I believe that the only way you would murder is if you in fact had another god before Him, and you have also certainly lost your fear of the Lord. Cain, (the first murderer) had placed himself above God. Today people murder in the name of Allah, money, or Castro and the list goes on. They lust for other gods in so many ways, but in each case completely absent of Wisdom, wouldn't you agree?
Jesus pointed out in Matthew

5:27

that to even insult my brother is to murder! Impossible!!! But with God, all things are possible. I need Wisdom and the fear of the Lord to navigate this challenge.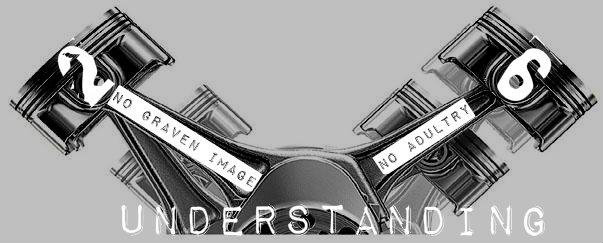 Moving on to the Second Commandment, "No Graven Image,"and the Sixth Commandment, "No Adultery", along with the second anointing from Isaiah 11:1-2, which is Understanding. Once again we get a clue from Solomon in Proverbs 9:10b: "Knowledge of the Holy One is understanding." The Bible has clearly connected the Second and Sixth Commandments many times as we see Israel prostitute themselves with Asherah Poles and idols of all sorts, God felt they had been unfaithful to Him. This is also a type of Jesus and the Church as His bride in the New Testament. Paul said in Ephesians 5:31-32 "For this reason a man shall leave his father and mother and be joined to his wife, and the two shall become one flesh.

This is a great mystery, but I speak concerning Christ and the church."
This great mystery provides UNDERSTANDING of the Holy one. If I even begin to understand the Holy One I am not going to worship a stick, and hopefully, as that goes deeper, not worship money or my work or even my ministry. This would then fuel my understanding of the picture my wife and I are to illustrate through Christian Marriage. Impossible … but God! The more knowledge of the Holy One, the more my intimacy needs are met in both places.

The Third Commandment, "Do Not use God's Name in Vain" and the Sixth Commandment, "Do Not Steal" and the third anointing Isaiah 11:1-2 Counsel. The word "counsel" in Hebrew denotes aligning with original purpose. So if our purpose is to glorify God, then using His name in any way to bring myself glory is in fact stealing and completely off purpose. If we are to love our neighbor, to steal his blessing again is to be completely off purpose.
Yes, swearing is using God's name in vain, but I sense from this "counsel" perspective that being on purpose to glorify God is the only way I can not use His name in vain. Impossible! But God!! I need the COUNSEL of the Holy Spirit to keep from stealing God's glory almost minute by minute.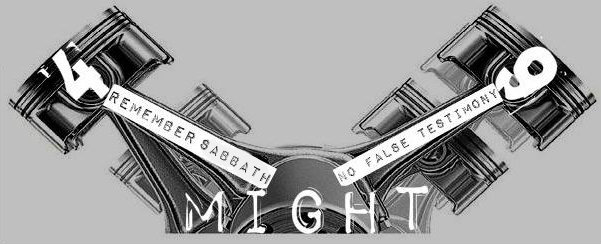 The Fourth Commandment, "Remember the Sabbath, keep it Holy." Boy, do I struggle with what that really means. The cool thing is that for me the idea of "Might," the fourth anointing from Isaiah 11:1-2 ,and the Ninth Commandment, "No false witness or testimony," shed some light on it for me.
As a talk show host, if I want power or might in my shows, nothing brings it like a testimony … a witness of how Jesus came to the rescue for someone on either a guest or a caller. If I want to prevent people from changing the channel or going into Walmart, let a caller share how, "God told me to buckle my helmet strap on tight", and all ears are on the radio! So, inversely, if I want to destroy my neighbor's power or might … you got it … false witness, slander, gossip.
So what has this to do with keeping the Sabbath? Consider what happens to your might/power if you don't stop working for 10 days … or, on the other hand, what does happen to your power/effectiveness if you took

Sunday

and were fed and worshiped and rested in your faith? Right! As sharp as an ax. Yet, setting apart the whole 24 hours … one whole day as Holy to the Lord?! Impossible! But God!!! And His Might, His Testimony is what brings that power in my life.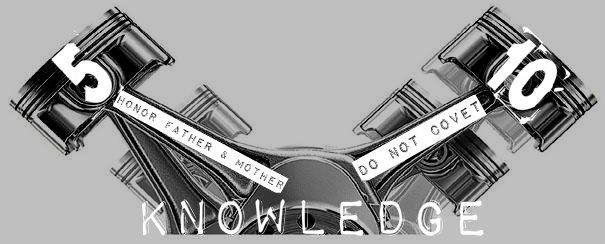 The Fifth Commandment, "Honor your Father and Mother" and the Tenth Commandment, "Do Not Covet" then are connected to "Knowledge" the fifth anointing from Isaiah 11:1-2. The really beautiful story of the Prodigal son, Luke

15:11

, illustrates this better than I ever could. Both brothers in the story struggled with coveting. The one that TURNED BACK did so because of his KNOWLEDGE of his father's goodness. To covet is to dishonor your father/Father.
Jesus explained this so well in Matthew

7:11

(we all need to visit this 7/11.) "

If you then, being evil, know how to give good gifts to your children, how much more will your Father who is in heaven give good things to those who ask Him!"
So how do I honor my earthly father and mother in all the ways they deserve and God even more so? IMPOSSIBLE!!! But God! By gaining more and more knowledge of the Father through the anointing of the Holy Spirit as we revisit Proverbs 9:10b, "K

nowledge of the Holy One is understanding."
The more you spin this crank … turning back to God in repentance … the more you gain Wisdom, Understanding, Counsel, Might, Knowledge! Spinning and spinning produces the last two anointings, Isaiah 11:1-3 , I believe you will see the circular argument here. The last two anointings are "The Fear of the Lord " and "He will delight in the fear of the Lord," which takes us back to resting there as God did on that seventh day. I am praying you will join me in pondering these as God ads more light on each turn of the crank we grow closer to and more like Jesus.