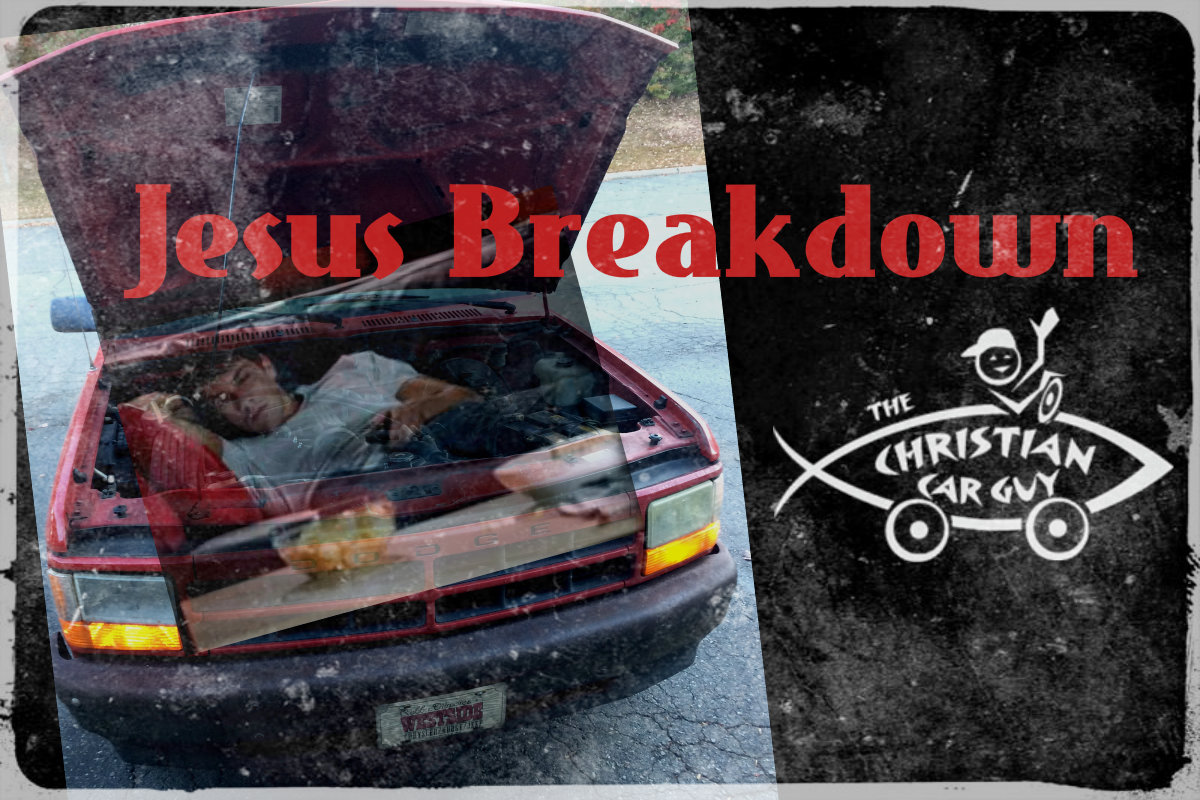 When Was Your Jesus Break Down?
That may sound a bit crazy but let me explain…
First you may have experienced a car break down on the side of the road that will help explain the Jesus Break Down…
This is when you failed to take Barney Fife's advice and "nip it in the bud"…
You were hearing this pesky tick, tick tick and were hoping it would go away…Then the Oil light flickered on for a second and went off… You figured it was a fluke and once again failed to Nip it in the bud.Next you were hundreds of miles down the highway the light came on just for a few moments when this horrible sound happened and the car coasted dead as a hammer to the side of the road…. Similarly, we will face Jesus Break downs
So what in the world is a Jesus Break Down?
A Number of years ago I had what I though was a really cool idea for a Show.My Thought was to call it Jesus Take the Wheel and have people call in and tell me… "Where were you when Jesus took the Wheel and I thought…
That's the part I'm sure Jesus and the Father got a good laugh over that one …
Robby thought that people would call in with Stories of where Jesus Took the wheel in a car accident situation and they were miraculously saved and maybe I would even get some folks to call in and share where Jesus stepped into a life situation and it was going to be amazing…SO
I went with it, got The Carrie Underwood Song to start the show, told my own story of when I had my little brother in the car with me and I almost killed us both but I actually let go of the wheel while we were spinning out and Jesus somehow kept us between the curbs…
That's the kind of story I expected..Again I'm sure the Trinity were having a big belly laugh when I got a call I will share in minute
A Jesus Break Down Moment… I would define as this..
In Isaiah 61 that Jesus Quoted as a prophesy fulfilled in Him That clearly shares Jesus came to bind up the broken hearted…
What I have come to understand may be involved in that and I think was clearly laid out to me by the call I am going to play in a moment, Is Jesus loves us so very much that He will totally disrupt our lives, in other words totally break us down on the side of the road.
In order to get our attention so that He can heal and restore our broken hearts… SO that we can Love Him and our Neighbor with a whole heart…
Now on today's show I am hoping and praying you will consider calling in with Your Jesus Breakdown Story
Call us at 866-3348-7884… that's
So here is that call that rocked my world and in my view clearly illustrates a Jesus Break Down….
So what was Your Jesus Break down call us today 866-348-7884…