TODAY IS THE DAY TO ORDER!!!
click here http://bit.ly/firstwordsofjesus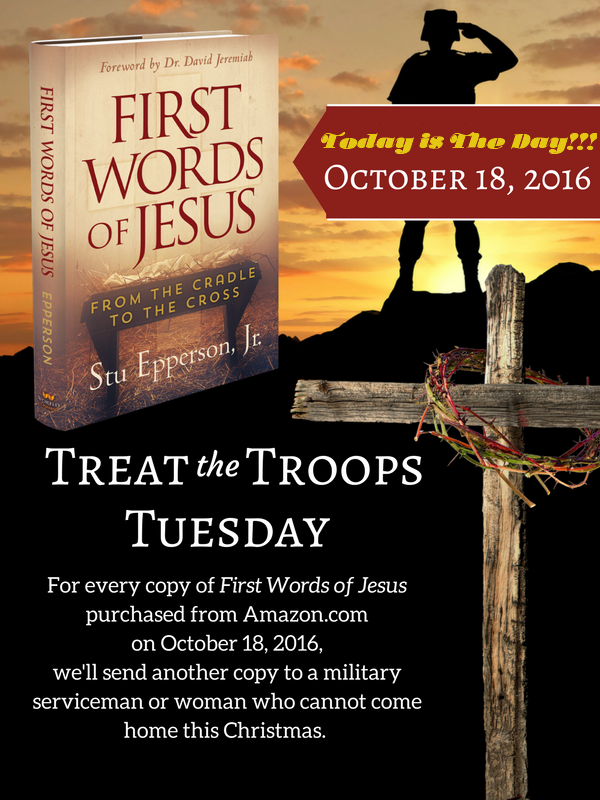 Stu Epperson Jr. has written a powerful 'New' book titled
First Words of Jesus: From the Cradle to the Cross.    I firmly believe that
this book needs to be in the hands of every lost and every believer.
For the lost, it unpacks the Christmas Story in a way that paints a powerful
picture of the gospel. For the believer, it brings the reader back to the real
meaning of Christmas and renews the hope found when one uncovers the
thread of redemption masterfully woven throughout history.   
Joni Eareckson Tada said "I highly recommend First Words of Jesus: From the Cradle to the Cross"
Governor Mike Huckabee commented "Stu Epperson's book gives us a thought-provoking and engaging look at how that simple and miraculous Christmas connects the Resurrection, how the cradle is connected to the cross. I highly recommend it."
Other endorsers include my friend  Dr Gary Chapman and Dave Ramsey.
The goal is for First Words of Jesus to be on the Amazon Best Seller list
If this book is a best seller, thenthe message will reach more people!
TODAY!!!!!

October 18th

and
order your copy of the book?

Would you also consider ordering copies as gifts or as an outreach tool to share with others this Christmas season?

Please feel free to share this email with others on your contact list as well.
I am so excited to see how God is going to use this book in the lives of readers this Christmas.
Thank you in advance for partnering with me to help make it a number one best-seller!